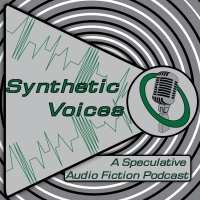 Hey Folks, the new Synthetic Voices podcast is up for October's stories.  You can find it here:
http://scienceismagic.com/?p=1591
Come spend an evening discussing science fiction, fantasy, and horror!
November 25th, 7:30pm-10:00pm at La Madeleine, 7607 Old Georgetown Road Bethesda, MD 20814.
We'll be discussing the 6 "Top Picks" from the Synthetic Voices podcast, plus anything else that comes up in the mix (other podcasts, favorite/recent audiobooks). Also, learn about other activities of the Washington Science Fiction Association (with which we are affiliated).
If you're new, we recommend listening to at least 3 or 4 stories from the list, just so you'll be able to contribute something. 🙂
If you're interested, you can just show up, but might I suggest RSVPing on Facebook?
https://www.facebook.com/events/175086026029017/