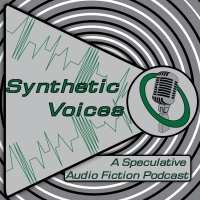 Hey Folks, the new podcast is up for June's stories.  You can find it here:
http://scienceismagic.com/?p=1490
Also, check out the awesome podcast discussion we have scheduled (the last two have been awesome, so expect this one will be too)!
Come spend an evening discussing science fiction, fantasy, and horror!
July 22nd, 7:30pm-10:00pm at Jason's Deli, 7356 Baltimore Ave, College Park, MD
We'll be discussing the 6 "Top Picks" from the Synthetic Voices podcast, plus anything else that comes up in the mix (other podcasts, favorite/recent audiobooks). Also, learn about other activities of the Washington Science Fiction Association (with which we are affiliated).
If you're new, we recommend listening to at least 3 or 4 stories from the list, just so you'll be able to contribute something. 🙂
Meet us in the back room of Jason's Deli in College Park (look for the Terp's Lounge). And as Jason's is our host, they'd love it if you grabbed your dinner there while we talk.
NOTE: PARKING is generally easy to find in the lot out front, but is METERED so bring cash or a credit card!
If you're interested, you can just show up, but might I suggest RSVPing on Facebook?
https://www.facebook.com/events/202226826596412/