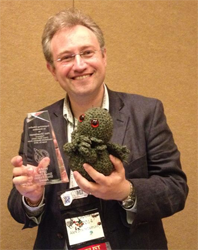 The 2014 winner of the WSFA Small Press Award is Alex Shvartsman for his story, "Explaining Cthulhu to Grandma", published in Orson Scott Card's InterGalactic Medicine Show, edited by Edmund R. Schubert (Hatrack Publishing, April 2013).
The winner was announced during a short awards ceremony at this year's Capclave.
The award committee will begin accepting submission for it's 2015 contest (for stories published for the first time in 2014) on January 1st, 2015. Check the WSFA Small Press Award website for details.